Just Say No...To Travel Insurance
Don't Buy Travel Insurance. Difficulty Level: Low
Welcome to Saving Money with Andrew. Thank you for signing up and if you like it, please press the "like" button and share it with your friends!
Chances are, if you've bought airline tickets recently, you've seen this: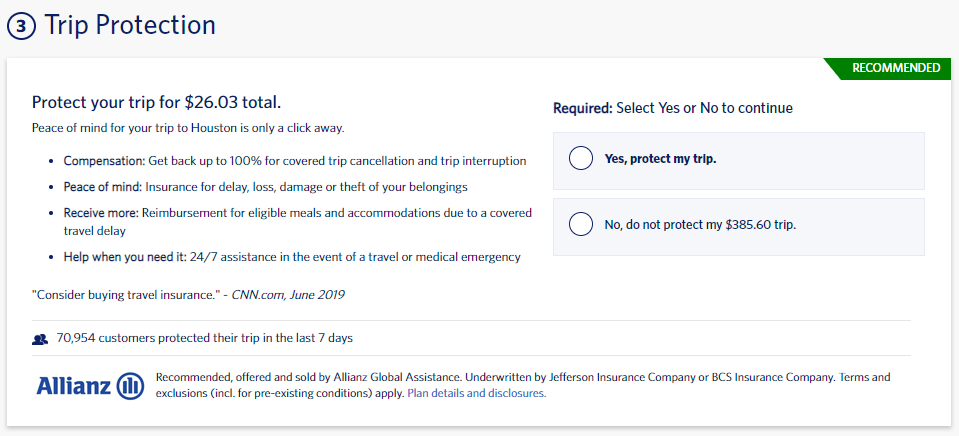 How could the 70,954 people who bought travel insurance for their Delta flight in the past 7 days be wrong?
Travel insurance is not "cancellation insurance". Travel policies often require you to jump through hoops to file a successful claim - Travel insurance generally does not allow you to cancel your trip for any reason and receive a refund. Scanning one common policy, to receive reimbursement for a cancellation related to illness or injury, a doctor must specifically advise you to cancel the trip before you cancel it, or within 72 hours of the cancellation. If you have a severe illness or get hurt, do you really think it is going to be at the top of your mind to make sure that your doctor recommends you cancel your trip so you can file an insurance claim?


Travel insurance is extremely lucrative…for the insurance company - According to a UK regulator, 3-4% of travel insurance purchases result in a settled claim, and the "claims ratio" (claims paid divided by premiums paid) on travel insurance products ranges from 50-61%, meaning that for every dollar customers pay in insurance premiums, the insurer is only paying out (at most) 50 to 61 cents in claims.[1]


Travel insurance pricing is (likely) inflated because covered cancellations vary enormously by age - According to one study, the average 30 year old files a travel insurance claim about 4% of the time, while someone in their 80's files claims 6 to 7% of the time. This isn't surprising, and unless the insurer prices based on age, they may price the product based on a customer pool including buyers much more likely than you to have a covered cancellation.


Your credit card may already include some travel insurance - Many credit cards provide some of these benefits already, such as lost baggage protection and sometimes even comparable cancellation protection. Check your cardmember benefits (just Google it).


You aren't protecting your whole trip, only the nonrefundable part - Although many airlines charge steep cancellation fees, it's usually possible to apply a significant portion of a cancelled ticket to a new flight. Many hotel reservations are fully or partially refundable.
Finally, just use some common sense. How many times in your life have you had to cancel a trip for reasons that would be covered under a travel insurance policy? What percent of the time do you think it will happen in the future? Multiply that by the covered cost of your trip (what the policy would have covered) to have a very rough sense of the high end of the "value" of a travel insurance policy to you. Remember that in many cases the policy might not have covered your cancellation, or that your existing credit card may already provide you some protection.
I hope this has been helpful. If you liked it, please press the "like" button and share it with your friends! Also, if there are any topics you're interested in, please send me your requests. And finally, if one of these tips helps you, I'd love to hear about it - just send me an email and I may (anonymously, of course) mention your story in a future post.